Hydromorphone, an injectable treatment, could be effective for chronic opioid addictions for which traditional methods have not worked, new research found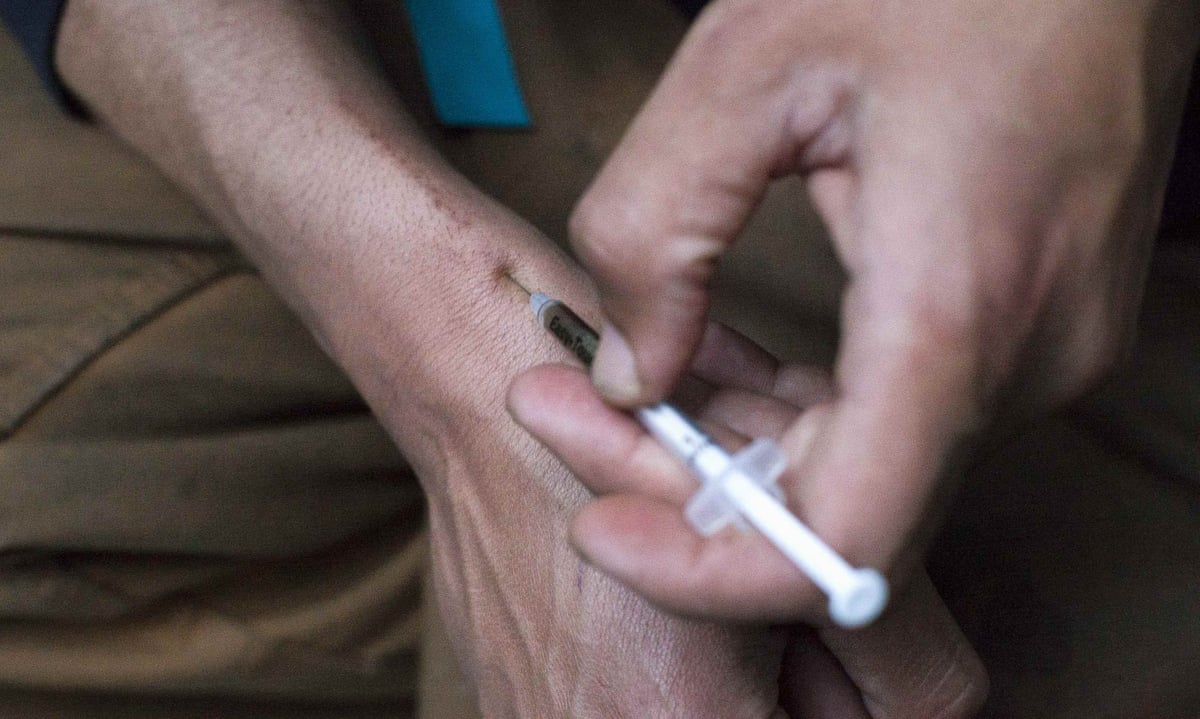 A licensed pain medication could be used as an effective treatment for chronic heroin addiction, according to new research.
The results of a multi-year clinical trial testing alternative treatments for heroin addiction published on Wednesday provide another option for addictswho have found traditional treatment to be ineffective, the researchers said.
Today, we have made tremendous progress, said the studys principal investigator, Dr Eugenia Oviedo-Joekes.
Oviedo-Joekes said that hydromorphone, a narcotic pain medication, was a new tool available to fight opioid addictions for some patients. Many people with opioid addictions are treated with methadone and buprenorphine. The research released on Wednesday suggests an accessible alternative for patients for whom methadone and buprenorphine have been ineffective, estimated to be roughly 10% of the heroin-dependent population.
Hydromorphone is an injectable treatment and can be more effective for long-term heroin users, the researchers said.
The Study to Assess Longer-term Opioid Medication Effectiveness (Salome) was started in 2011 by researchers from Providence Health Care and other public health organizations in Vancouver. The Salome study was launched as a successor to previous research which found injectable, prescription heroin to be a more effective treatment than methadone. The Salome study found hydromorphone to be equally effective as prescription heroin. Injectable diacetylmorphine, as prescription heroin is known, is a controversial treatment option in some countries, including Canada and the US, but is used regularly in multiple other countries including the United Kingdom and Germany.
Daniel Wolfe, a director with the human rights group Open Society Foundations, said Salomes new research could help move North America past its ideological bias against injectable treatments.
The importance of this study is that it shows that we have a medicine thats already available that could be an effective treatment for that small group of patients from the other more commonly available treatments, he said.
Hydromorphone is a pain reliever and not currently approved to treat addiction. Dr Melinda Campopiano, a medical officer with the Substance Abuse and Mental Health Services Administration, said the study was promising but that she wasnt sure that this study has a lot to offer right now.
The research is exciting, but we have existing treatment thats not being made available, so thats our bigger problem, she said.
Most organizations fighting drug abuse say that treatment for addiction should include medication when available, in conjunction with therapy and other treatments.
Officials in the US have redoubled efforts to address heroin addiction in recent years. Heroin-related overdose deaths nearly quadrupled in the US between 2002 and 2013, according to the Centers for Disease Control and Prevention. Opioids were related to at least 28,647 deaths in 2014, according to the organization.
Max, a participant in the study, spoke at a press conference in Vancouver and recommended the treatment to addicts for whom alternatives havent worked. Max, who identified himself only by his first name, said that before participating in the study, he had been homeless and resorted to criminal activity to pay for his heroin habit.
Yesterday was my 50th birthday. I didnt think Id ever hit 50, he said. Its done wonders for me and I know that its going to help a lot of people in the future. I give it all my recommendations.
Read more: http://www.theguardian.com/world/2016/apr/07/pain-medication-heroin-addiction-alternative-treatment